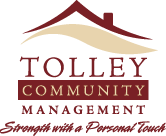 Tolley Community Management - TCM is a full service certified property management company. We employ professional managers who assist in helping you enjoy a quality of life free of the hassles of self-management. We provide exceptional association management with a unique and personal touch.
Our website has a range of features which will help you communicate not only with your neighbors, but with your association and management company as well.
If you are a homeowner, you may login (or register for a login) if you wish to access private owner information or make a payment. Please enjoy your stay on our site!
Website Services
These are just some of the features we currently offer on our website:


Safely pay your assessments online via eCheck or credit card.

Create, modify and view recurring assessment payments.

Access to your account transaction history in real-time.

Create, modify and view up to date architectural request information and work orders in real-time.

Access community directories for homeowners, clubs and committees.

View your community's upcoming events on the calendar.

Review and respond to open violations.

Download governing documents.

Obtain copies of Association insurance certifications.

View monthly financials, the annual budget and other important information.